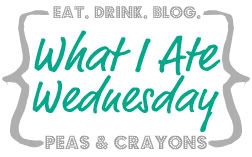 Every summer, my work hours change from a regular Monday through Friday routine to a Green Friday schedule. This means we squeeze our 40 hours into four days and we have every Friday off. Those four days are long, but having a three day weekend is super!
This past Friday I got up early to go bike riding with some friends and we ended up riding 26 miles. We usually go about 15 miles. My typical food before a ride is handful of dried fruit. Two hours later when I got home, I was famished! This was my breakfast that I washed down with about 3 glasses of water.
Egg and cheese on a bagel thin with spinach and tomato
Lunch wasn't too long after and I found some leftovers from dinner the night before.
Salad with grilled chicken
Dinner was an experiment. I love chicken pot pie, but my husband had a craving for mashed potatoes.
I decided to make the pot pie without a crust and serve it over the mashed potatoes. Definite comfort food!
Deconstructed Chicken Pot Pie with broccoli
Dessert is one of my favorite meals of the day. This cookie bar did not disappoint.
S'more Cookie Bar
Today's meals were sponsored by: T
he Chicken
What good food have you eaten lately?